[en] New Fights on the ZAD. Gendarmerie withdrawn from the zone.
[de] Erneute Kämpfe auf der ZAD. Gendarmerie zieht sich aus der Zone zurück.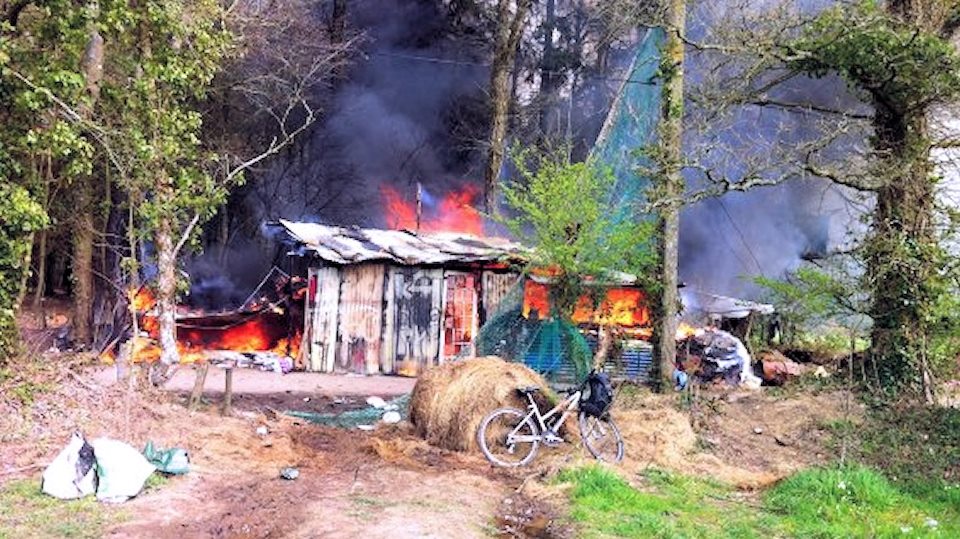 [en] Since 'Sème ta ZAD' (the demonstration to enhence agriculture) on the 13th  of April, there have been some remarkable events.
1. The junction that was constantly occupied and controlled by the police (Gendarmerie) was taken back during the Manifestation on the 13th of April
2. The Gendarmerie tried to get it back a few days later and severe fights broke out living many injured by concussion grenades and rubber bullets.
3. The 'Prefecture' withdrew the Gendarmerie and communicated through AFP that they would only send the police in when its "needed" but also made conditions that the ZADists should make way for analysts to examine the area in order to reconsider if the airport should be build.
[de] Seit Sème ta ZAD (der Demonstration um Landwirtschaft auf der ZAD voranzutreiben) 13. April ist einiges passiert.
1. Die Kreuzung, die permanent durch die Polizei (Gendarmerie) besetzt gehalten wurde, wurde während der Demonstrration am 13. April zurückgeholt.
2. Die Gendarmerie versuchte einige Tage später die Kreuzung wieder zu besetzen und es brachen heftige Kämpfe los, bei denen einige Menschen durch Schallgranaten und Gummigeschosse gefährlich verletzt wurden.
3. Die 'Prefecture' zog die Gendarmerie ab und kommunizierte über die Presseagentur AFP, dass sie die Polizei nur in die ZAD schicken würde, wenn es "nötig" sei. Sie machte außerdem Bedingungen, dass die ZADist_innen den Weg frei machen sollten, damit Analysen auf dem Gelände stattfinden können, um die Umstände für den Bau des Flughafens neu zu überdenken.